Eneloop Charger with 4AA Batteries
Availability:

In stock

(1)
We love these rechargeable batteries! 
Some Highlights:
Charges both AA and AAA batteries
You can charge 1-4 batteries at once
Batteries will continue to hold up to 70% of their charge for up to 10 years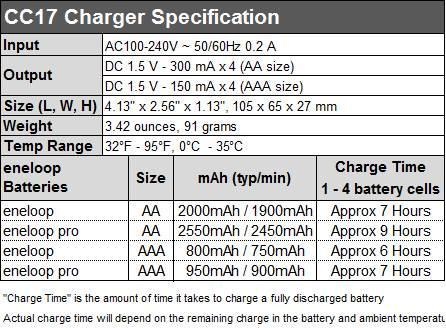 The Panasonic CC17, 4-position Ni-MH battery charger delivers advanced, individual cell charging capabilities. Ideal for use at home, in the office, or on the road, this Panasonic CC17 charger is a convenient way to recharge any combination of up to four AA or AAA Ni-MH eneloop, eneloop pro, or conventional Panasonic Ni-MH rechargeable batteries. The CC17 charger also features 4 LED charge indicator lights and a retractable AC plug. This package comes complete with the CC17 charger and four eneloop Ni-MH "Low Self Discharge" batteries. These new eneloop cells utilize Panasonic's advanced rechargeable battery technology allowing them to be recharged up to 2100 times**. eneloop battery cells deliver consistent power performance, maintain 70% of their charge for up to 10 years*, come pre-charged by solar power (at the factory)*** and are ready to use out of the package. These eneloop cells also have increased storage life and extreme temperature performance down to -4 degrees Fahrenheit. ****
Key Features
Advanced, individual battery charging, AA and AAA cells. 4 individual LED charging lights. Battery detection technology – auto shut off. Panasonic brand name. Retractable plug. Fully charge eneloop AA cells in 7 hours, AAA in 6 hours (approx. ). AC100 – 240V, 50/60Hz. * Based on IEC 61951-2(7.3.2). ** Battery life based on testing method established by IEC 61951-2(7.5.1.3). Results may vary based on conditions of use. *** As certified by The Green Energy Certification Center **** Storage at 20° (68F) ambient conditions (Discharge: . 2lt, E. V equals 1.0V) (varies according to conditions of use). eneloop batteries need a charger to be recharged. Panasonic Ni-MH battery charger recommended.
Single Battery Charging Capability
This advanced AC charger is designed to charge battery cells individually; allowing you the freedom to completely charge fully discharged cells or just "top off" the charge of AA or AAA cells that are only partially drained. The single cell charge capability allows any combination of one, two, three or four AA or AAA Ni-MH batteries to be charged at the same time.
0
stars based on
0
reviews